I came across an article on Slate.com a few days ago that was re-published in a newspaper I read under the headline "If you're having a baby, don't get a dog." The original post on Slate was "The One Thing No One Tells You Before You Have Kids. Don't get a dog." I was curious, because a couple of years before we had our first kid, I got down on one knee holding an 8 week old Schnoodle bearing a diamond ring around his neck. When I proposed to Jennifer, she said yes and we later named the puppy Scooter.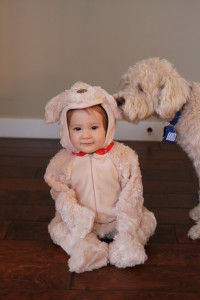 Reading the headline of Allison Benedikt's article, I thought it might be somewhat in jest. We've had our share of difficulties with Scooter, but by far and away they've been outweighed by the joy he's given to us, Penelope and more recently our second child Harrison. I expected Benedikt would tell a similar tale about her dog Velvel, but no. The caption on the photo at the top of the article says it all "Life was good for Velvel. Then the kids were born." She rather nastily writes about the love she had for her dog – who much to her dismay is still living – in the past tense.
It's a sorry tale and early on I lost all respect for her. Judging by the tone and overwhelming hostility of most of the 600+ comments she's received, I'm not alone. I won't repeat some of the points people made about the poor choices she and her husband made, most of which I agree with. Instead, I'll argue that if you plan on having children and you choose your dog wisely, it's one of the best decisions you'll ever make.
This short video I put together a year ago makes many of the pro-dog arguments for me. Penelope and Scooter have created such a great bond and she's learned so much as a result of having him around.
There are also well documented health benefits from babies growing up around pets, from stronger immune systems to fewer allergies and a lower likelihood of developing asthma. The latter two are important for us if Scooter's presence protects them, because Jennifer and I had plenty of both when we were younger.
Benedikt complained about her dog barking and preventing her child from sleeping. Scooter is definitely a barker, yet as far as the kids' sleep is concerned it's almost never been an issue. We're not sure if they both got used to it in the womb, but they'll sleep through almost any outburst of his barking. He might wake us up of course; however, Penelope and Harrison never seem to notice it.
Scooter's anxiety levels have increased as a result of two additional humans in the house that he has to protect. And from time to time he'll inevitably do something that annoys one or all of us. But so do the kids.
Jennifer and I signed up to raise all of them and love them unconditionally. It's a shame that Benedikt doesn't seem to have made that commitment to Velvel too.