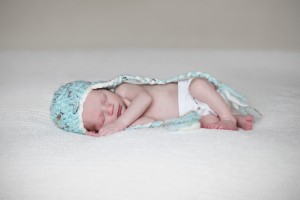 I once wrote an email to my younger brother before he had his first kid. In it I told him some of the things we learned about caring for a baby and wished we'd been told beforehand. When friends and colleagues were expecting, I'd dig it up and forward it on with a comment such as, "You're probably getting loads of advice, so feel free to ignore this, but here's something I shared with my brother." To my surprise, every one of them was really pleased to receive it. Below is an edited and updated version (now that we've got two!). It covers books, sleep, baby gear, diapers, carriers and more.
Newborn Prep
One of the key things that we learned early about all the bits and pieces you need for a baby is that there's not a lot that's critical right away.  We were initially thinking we'd need to have everything purchased and in place by the time we brought our baby home from the hospital.  But friends and some of the more useful books we read set us straight. There were two books we thought were essential:
"Baby Bargains" is a really handy "consumer reports" book that has helped us sort through the clutter and decide what things to buy and when we'd need them.
It gave good advice on stuff that people say you need, but you really don't, as well as provided good tips on products that are sold under different brands, but are manufactured by a single company.  So if you buy the cheapest brand, it's still the same product as the expensive brand.
"Happiest Baby on the Block" is what we thought was the essential guide to adjusting Penelope to life in the real world and keeping her content during those first three months.  It gives you five basic techniques for soothing your newborn, as well as an explanation as to why they work and how you should use them in concert.  My wife and I read the book on our "Babymoon" to Hawaii.  We managed to read most of it on the plane and finished it by the pool.  Note that we skipped most of the "real life" stories of parents implementing the techniques with their babies.  There's a video of the book that some swear by.  Either way, it worked a charm on our first child as well as our current newborn.
We got plenty of advice from folks to avoid buying newborn diapers and too many newborn clothes, as most friends said their babies either never fit them or grew out of them within a couple of weeks.  For us, that wasn't the case – our first child staying in newborn diapers past two months!  But you'll likely be able to take the hospital newborn diapers home with you and it's easy to pick up more.
Diapers
Pampers newborn diapers were what our hospital used and they worked well for both our children as newborns.  The wetness indicator really helped us as new parents know when baby needed changing.  Huggies has the same feature.  Both Pampers and Huggies seemed to work well for us initially, then Huggies didn't fit as well as Pampers and now Huggies is working just fine for her.  Most parents we've spoken to seem to have had similar experiences, with their babies shifting between brands over time.  The one brand that did not work out for us and we ended up taking back was Babies-R-Us.
Sleep and a Schedule
In terms of getting Penelope to sleep well, my wife read several books, including "Healthy Sleep Habits, Happy Child" and "The Baby Whisperer".  She picked and chose advice from them as she didn't like all the advice from any one book.  The bottom line is that getting Penelope onto a schedule was key. 
That said, we didn't try to do anything until she was sleeping through the night.  You'll see for yourself that your child is all over the place in those first weeks and months.  So just go with the flow and once the baby settles a little, then start getting the schedule down.  For us it was around 4 months that we started trying to get our firstborn onto a schedule.  And it took many more weeks to get her locked into it.
Baby Gear
At home, we started off with our baby in our room. Each slept beside our bed in a Pack 'n' Play that converted to a bassinet with a changing table, similar to this model.  This worked great for us as it didn't take up too much space and with a baby waking up at least a couple of times a night, it made it easier for us to deal with than having to go to their room. The Pack 'n' Play comes in handy as they grow older for trips and letting them play safely once they're a little more mobile.
There are just two other things we relied on a lot. First, a swing, similar to this model. When our little boy was a few weeks old there was one night he was inconsolable. We'd think we had him comfortable and asleep, but he'd wake up crying moments later. We'd each tried our best parenting skills, but to no avail. Eventually I decided to let my wife get some sleep and took him upstairs, walked him around in my arms, un-swaddled him, swaddled him again, lay him on my chest etc. Finally I could sense he was calming down and almost asleep. So I put him in the swing to see if that would keep him down and it did long enough for me to get a few z's. It was a lifesaver then, but is just generally a safe place to put a baby down in for a short while when you need to prepare something, wash something or similar and have them nearby.
Second, a bouncy seat similar to this one. Again, it's just a safe and comfortable place for the baby. The advantage with the bouncy seat is its portability. You can take it around the house easily so the baby can watch you and vice versa wherever you are.
The bottom line on all the baby gear is most of it you don't need straight away.
Walking
Our stroller of choice was the Bob. We have a dog so we go on walks daily. Comfort for both the baby/kid and us was key. Having tires that inflate as well as a small amount of suspension in the stroller makes a lot of difference with the sidewalks in our area as well as on some of the walks around lakes and on trails that we sometimes do.  There are other models with similar features – some cheaper and others more expensive. We bought the car seat adapter for the early days, which worked well. As our first baby got older, we also bought a cheap umbrella stroller for short shopping trips and trips that involved flights as taking the Bob seemed overkill.
For the second baby, we also purchased a Snap N Go stroller, that we can drop the car seat into. With two kids, it's just easier than dealing with the Bob on short outings.
In terms of baby carriers, I stuck with the Baby Bjorn and as our first baby got older (and heavier!) I got the Baby Bjorn Active. The original was great when the baby was lighter, but the Active was much more comfortable as she put on weight. My wife used the Baby Bjorn, a sling for around the house and she tried another carrier too. Some friends swear by the ERGObaby.
My final piece of advice is to look at second hand options. We've got some great deals through email distribution lists at work or in our area. There always seem to be local moms lists in most neighborhoods. We've also visited dedicated baby/kid consignment or second hand stores. And of course there's the generosity of friends. Many friends have been kind enough to give us clothes or baby gear (some of the stuff listed above) once their kids have outgrown them. Babies and toddlers seldom wear stuff out – they outgrow them so fast. So many things are in excellent condition.
Good luck and enjoy the ride!