People on both sides of the global warming debate often seem to talk at cross purposes and frequently in emotional tones. While climate science is incredibly complex, the policy implications seem to me to be relatively straightforward, yet get lost amongst the shrill clamor of the academics, politicians and media pundits. In this piece, I'll try and break down the key elements of this debate as I see them and explain what and how I think about global warming.
Before doing so, a brief overview of my background on the subject. I've followed this debate closely for over 20 years, reading numerous articles and books, and attending lectures by policy makers and climate scientists, including some who have contributed to the regular International Panel on Climate Change (IPCC) reports. I've also written on the subject and debated the topic in newspapers.
Is the earth warming?
When people say that "the science is settled" or "the evidence is incontrovertible", on the matter of whether the earth has been warming for the past couple of centuries, I strongly agree. Records indicate that since 1800 the earth has warmed by a little under 1 degree Celsius. Most climate models also suggest that the warming will continue, although there is a considerable amount of uncertainty as to by how much.
The IPCC has been dialing back its previous forecasts. Its 2013 report projects global average temperatures will rise between 0.3 and 4.8 degrees C this century – quite a range and lower than its 2007 prediction. It's also worth noting that models the IPCC has been relying on failed to predict the more than 16 year pause in global warming that we're currently experiencing.
When the models predict the earth will warm, what does that mean?
To a layperson, a suggestion that the earth will warm could be construed as meaning that temperatures around the globe will uniformly increase 24/7. When I hear people who are passionately advancing the case that government intervention is required to stop global warming, I seldom hear them clarify what climate models are really predicting. It's hard not to conclude they're content leaving the impression that everywhere will get warmer. Nothing could be further from the truth. I remember one IPCC contributor explain (in a speech in the 1990s that I attended) that models are predicting that, for example, some of the warming will occur in the Sahara Desert and mostly at night. More generally, today models expect most warming to occur at night, in winter and in cold places. In many other areas there will be no warming. If the models are right – a big if, given their track record – the net result, of course, is that global temperature extremes will be reduced.
Man's contribution
The question of whether man is responsible for this global warming and, if he is, how much of it he is responsible for is much less settled than the question of whether warming is taking place. It's widely agreed that Earth's climate has gone through periods of warming and cooling for thousands of years, so clearly natural variability could be contributing to the warming we've seen over the past couple of hundred years.
Even the IPCC admits the science around the proposition that man is responsible for much of the warming isn't settled, only offering that it's "extremely likely" that he is.
Given the abysmal track record of forecasts by climate models and the IPCC's inability to explain the pause in warming it failed to predict, like many climate scientists, I'm personally very skeptical of its estimate of man's contribution. As Matt Ridley recently wrote:
In climate science, the real debate has never been between "deniers" and the rest, but between "lukewarmers," who think man-made climate change is real but fairly harmless, and those who think the future is alarming.
My own point of view is that perhaps man has had some impact, but I tend to believe, as the IPCC's 1990 report suggested, that the observed temperature increase "could be largely due to" natural variability.
What's the optimal climate?
Something you'll seldom hear lobbyists that are arguing we need to spend billions to stop global warming say is what they consider the world's optimal climate to be. In other words, if we're going to "stop global warming", what's the end result? Was the world's climate in 1990 perfect, so that's what we need to shoot for? Or do we want it to be what it was in 1800, because, as noted above, temperatures have increased 1 degree Celsius since then. Or did we achieve the optimal climate somewhere in between these dates? Of course, the world's temperatures have been fluctuating for thousands of years and will continue to do so. It's somewhat of a folly to think that we should try and engineer some sort of ideal climate, even if it were theoretically possible to do so, given that the natural course of things is for earth's temperature to fluctuate.
A (former) key argument for stopping global warming
When I debated the subject in the '90s, global warming alarmists would reluctantly agree that there always has been natural variability, but they'd argue that change is happening too rapidly for the ecosystem to adjust. Species, it was alleged, would be decimated or even wiped out because the change would be too rapid. They would argue that in the past change was much slower and creatures were able to adapt. I and many others have always been skeptical of this case, as I believe nature is much more adaptable and warming isn't going to be so rapid.
Now that the dramatic forecasts of the IPCC have been scaled back multiple times since the '90s and we're entering our 17th straight year of zero warming, the argument that life won't be able to adjust is seldom heard – these days proponents of government action have tried to switch the subject from global warming to "climate change", which seems to mean extreme weather. This is hardly surprising, because previous forecasts upon which the "never-before-seen-rapid-warming" argument relied all had temperatures inexorably climbing year upon year. There's no telling if or when temperatures will start climbing again and, if they do, when the next pause might set in and how long it might last. Some scientists are now estimating the one we're in the midst of experiencing could continue for another 20 years. Either way, on current trends, should warming resume, life is getting plenty of time to adjust.
Failed predictions
One of the more remarkable things about the global warming debate is the number of forecasts or predictions from supporters of drastic government intervention that have failed to materialize. Take for example the computer models the IPCC relies on that have for close to 30 years overestimated actual global warming. The IPCC has dialed back its long range estimates of warming in each consecutive report it has released. In any organization I have worked in, if someone consistently gets their forecasts wrong, they lose their job. Apparently, in the case of the institutional scientists and models behind these failed predictions there are no consequences.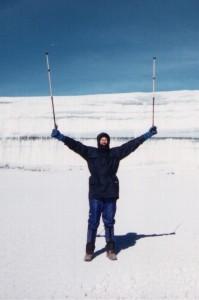 Or take some of the more dramatic claims made about the impact of global warming. In 2006's "An Inconvenient Truth" Al Gore famously stated "within the decade, there will be no more snows of Kilimanjaro." Dr. Belinda Medlyn made a similar assertion, presumably relying on the same data, in an Australian newspaper in 2002 where she wrote, "at the current rate of melting, the icecap is likely to disappear entirely within 15 years." Having stood atop Mt. Kilimanjaro with my father 7 years prior, I was confident that her claim was bogus and published a response asking her if she'd care to back up that prediction with a wager. Unfortunately, she didn't take me up on my offer. One of the authors of the study Al Gore relied upon now admits they goofed and the "snows" could be there for 50 more years. I wouldn't be surprised if he's still wrong.
Forbes contributor James Taylor rather brilliantly called out other failed predictions this year by asking the pertinent question, "When did the science become settled?"
Was it seven years ago when alarmists claimed global warming would reduce the frequency and severity of Arctic cold fronts reaching the United States, or this winter when they blame an increase in such repeated Arctic cold fronts on global warming? Was it three weeks ago when Time claimed global warming is bringing an end to snowfall, or two weeks ago when every state but Florida had snow on the ground and alarmists blamed it on global warming? Was it in 2007 when alarmists claimed global warming was melting Antarctic ice sheets, or in 2013 when they said global warming is causing record Antarctic ice extent? Was it in 1998 when alarmist computer models predicted dramatic warming during the following 16 years, or today after no such warming has occurred?
Global warming costs and benefits
Much coverage of global warming is cast in terms of all the dire costs, which as discussed above frequently don't materialize. But it's important to note that global warming, if it continues to take place, carries with it many benefits. If you believe the IPCC forecasts, an economist has found that the predicted warming would be a net benefit to mankind all the way through to 2080. At that point, the benefit turns negative in subsequent years, if the IPCC forecast of an increase over 2009's average temperature of 2.2 degrees Celsius in 2081 is to be believed. As discussed earlier, that's a big if. A study out this month suggests climate models display too much sensitivity to CO2 concentrations, resulting in exaggerated global warming. If accurate, benefits will continue to remain positive into the next century.
Examples of global warming's benefits include the fact that far more people die each winter from the cold than perish in the summer due to heat. As noted earlier, most warming is expected to occur in the winter. Three European academics estimated this would result in 1.4 million fewer deaths annually.
Per Matt Ridley, other benefits include "lower energy costs; better agricultural yields; probably fewer droughts; maybe richer biodiversity."
What's the appropriate policy response to global warming?
Paul Krugman recently wrote, "Once upon a time, walking around shouting 'The end is nigh' got you labeled a kook, someone not to be taken seriously. These days, however, all the best people go around warning of looming disaster. In fact, you more or less have to subscribe to fantasies of…apocalypse to be considered respectable." While he wasn't writing about global warming, his words are eminently appropriate in the context of this debate. Advocates of massive government regulation and intervention to curb greenhouse gas emissions have relied on the very same tactics Krugman describes. Not only are they forecasting apocalypse many decades out, but their previous shorter term forecasts have proven horribly wrong. It's little wonder that climate change ranks dead last among the public's top 20 policy concerns in Pew's January survey.
Given the unreliable forecasts and uncertainty around just how much warming is the result of mankind, it seems that the obvious policy response is not to take drastic and extraordinarily expensive measures today that could be better used on causes that are certain to do good now. This is especially the case given the limited impact of massive spending. $50 billion spent on climate change measures, for example, has been estimated to reduce temperatures over the next one hundred years by a mere one thousandth of one degree.
In addition to drastically limiting economic growth (and thus limiting continued reductions in global poverty), the measures being considered would divert resources from other more immediate and addressable global problems such as hunger, malaria, tuberculosis and access to clean water.
Nigel Lawson expressed this trade off well:
But what moves me most is what this would mean for the developing world. For them, abandoning the cheapest available form of energy and thus seriously abandoning the path of economic growth and rising prosperity on which, at long last, most of the developing world is now embarked, would mean condemning hundreds of millions of their people to unnecessary poverty, destitution, preventable disease, and premature death.
This also neatly explains why the Kyoto Protocol, the 2009 Copenhagen Summit and 18 other UN summit meetings on global warming all failed.
As economist Andrew Lilico recently wrote:
We've spent 25 years trying to prevent global warming, and have barely scratched the surface. In doing so we have spent untold billions and plan to spend countless more. One does not need to doubt that climate change is happening to doubt that this is the strategy we should stick to.
Lilico explains why adapting is the most appropriate policy response:
[A]daptation is much less risky than mitigation in two important ways. First, there is obviously some chance that climate change will not turn out as expected. In the past decade or so climate scientists have been struggling to explain the fact that global surface temperatures have not risen since the late 1990s. They insist that makes no difference to their long-term story about whether the Earth is warming and what the eventual impacts may be. And perhaps that's right. But it does make a difference to policymaking. …
The second way adaptation is less risky is that we know relatively little about the effects of mitigation strategies and they may not work as expected or might even have perverse long-term effects. By adapting as and when we need to, we cut down on the risks of doing something counterproductive by accident or of simply wasting our time and money.
The last advantage of adaptation is that as we become richer our tastes and technology will change automatically. It is perfectly possible that we shall naturally find ways to change our behaviour that stop climate change in its tracks, or alternatively we may devise some clever way of cleaning up after our grandparents.
I'll leave the last word to Matt Ridley:
Almost every global environmental scare of the past half century proved exaggerated including the population "bomb," pesticides, acid rain, the ozone hole, falling sperm counts, genetically engineered crops and killer bees. In every case, institutional scientists gained a lot of funding from the scare and then quietly converged on the view that the problem was much more moderate than the extreme voices had argued. Global warming is no different.