As parents, we've introduced our kids to stories we grew up with, both on TV and in print. Jennifer and I have often wryly remarked to each other how, as sensibilities have evolved, a lot of the material probably wouldn't be approved by today's editors. This includes much older publications like 1941's "Curious George", but also relatively more recent works such as the 1964 television special 'Rudolph the Red-Nosed Reindeer' and Judith Kerr's (no relation) 1968 classic, "The Tiger who came to tea".
The latter is the tale of a tiger who shows up at the house of Sophie and her mother unannounced. They hear the doorbell ring and even though they aren't expecting anyone, Sophie's mother let's her daughter open the door. The tiger at the door says he's hungry and asks if he could come in for some tea, so naturally they say, "Of course, come in."
While it's hard to imagine a plotline like this making it into print today, the part we find most amusing and almost certainly unprintable today is: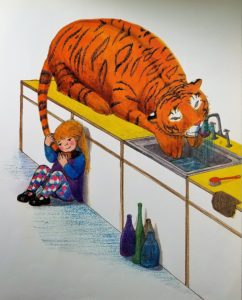 "and he drank all the milk
and all the orange juice
and all Daddy's beer
and all the water in the tap."
That's right, the tiger might have intended to only come for tea, but he probably staggered out the door drunk.
The character of Curious George remains ever-popular, with a TV series that ran until 2015 and new book titles that continue to be appear. But the original "Curious George", which is still in print, would likely require heavy edits in order to get published today. Leaving aside that he's trapped, stuffed into a sack and transported from his home in Africa to "a big city", it's difficult to imagine his tobacco smoking would be welcomed by a print-house today: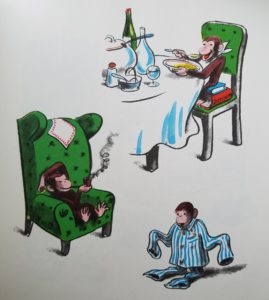 "After a good meal
and a good pipe
George felt very tired."
His later stint in a cold prison cell accompanied by three mice might also raise eyebrows.
Television's "Rudolph the Red-nosed Reindeer" is still broadcast annually by CBS and is the longest running Christmas TV special in history. The Post Office even issued a series of stamps in 2014 to mark the 50th anniversary. But attitudes have evolved since 1964 and the producers would almost certainly rewrite the part of the script where Rudolph's dad tells his wife that she can't come look for their son because, "This is man's work!".
While it never reached the circulation of some of the classics above, the British book "Making a Road" has given my wife and I the most laughs. My mother read it to my brothers and I when we were little and on a recent visit home I brought it back with me to read to our kids. Written by Althea Braithwaite, founder of Dinosaur publications, this 1973 title showcases equipment used and tasks workmen (they're all men, of course) perform when constructing a road.
Not a single worker in the book wears a hard hat and several have Curious George's pipe smoking habit.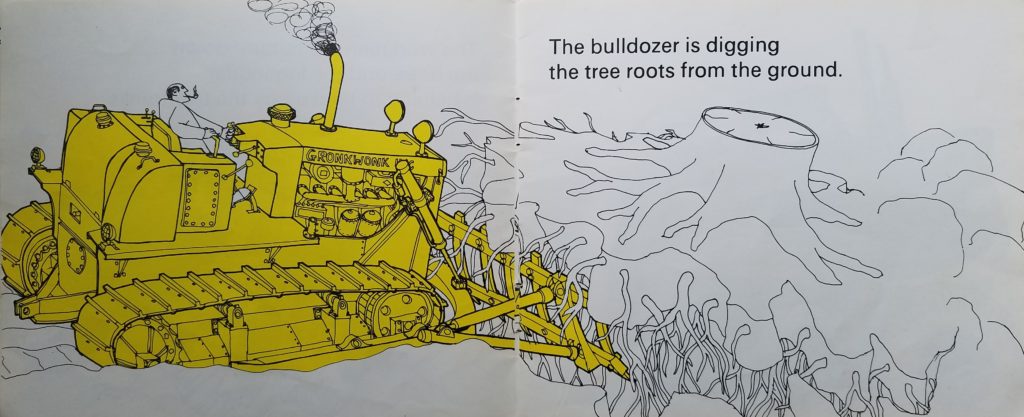 After the surprisingly risky behaviors illustrated throughout, there's a moment of relief when, on the penultimate page, we read to our children that the workers paint lines to show the cars where to stay on the road.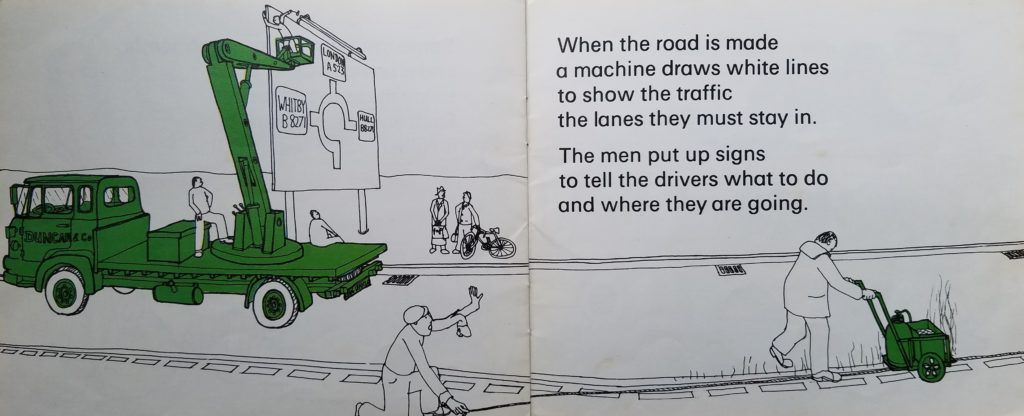 However, upon turning the page the book returns to form. Not a single person is wearing a seatbelt and one man, his hair blowing in the breeze, is casually sitting in the bed of a truck that seems to be missing a tailgate. But worse than all of that is the speedster in the green racing car.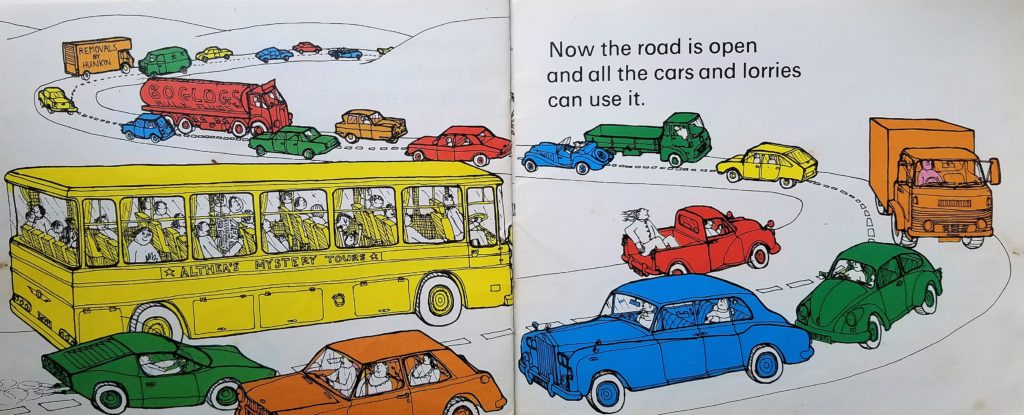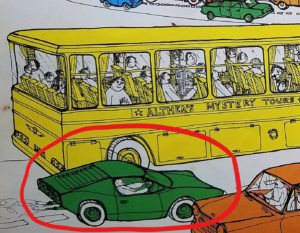 That's right, the previous page told us that we paint lines on streets to tell cars where they need to stay, but this jerk is driving up the middle of the road overtaking a bus full of people, and on a corner no less!
Of course, in spite of the drunk tigers, pipe smoking monkeys, misogynistic reindeer and reckless drivers, people who grew up in the '60s, '70s and '80s with this material turned out OK. And so will our kids.