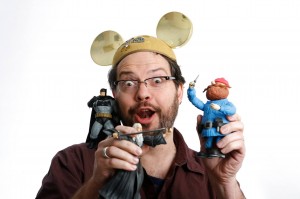 Our good friend Kyle Warnick just passed away. My wife and I met him through work, but built a friendship outside of it, attending "house concerts" he frequently arranged as well as meeting up for coffees and the like. He was a born storyteller and would always have one to share. I remember meeting him for a coffee a couple of years ago. We'd been catching up on how things were in each of our families and our jobs. I looked at my watch and realized I needed to be somewhere. He protested, because he hadn't told me a story yet. I knew whatever I had to do could wait and it would be worth sticking around, because it wasn't just about the story for Kyle, it was how he delivered it.
For Kyle, Walt Disney was one of the best storytellers of all time and he fell in love with Disneyland after his first visit in 2005. He shared the following with friends and I know he'd want everyone to benefit from his advice and enjoy the Magic Kingdom as much as he did. Take it away Kyle…
"I'm often asked for Disneyland advice, recommendations, tips and tricks. My first trip to the motherland was in 2005 (long story as to why it took so long) but since then I've been back for 30 separate trips, been an annual passholder and also a Disney Vacation Club member. It's in my blood. This place is a second home. I'm also fascinated by the history and lore of this place and the unique connection it had to Walt Disney (a personal hero!). So I figured I would put all of that learning to use and provide this overview for the uninitiated (and even veterans looking to learn something new) ranging from hotels, to food, to managing your time in the Parks.
Everybody ready? Here we GO…
RESEARCH
First, let's start with doing your own research. The travel books are great but there are three excellent sites that have amazing forums and experts that are super helpful and are far more up-to-date. I visit these regularly and find that they have answers to every question you probably need an answer for and many answers to questions you didn't even know you should ask. Look in their discussion boards. Mouse Planet, Mice Age, Dis Boards
Keep in mind there is a ton of info on these sites and it may require some patience sifting through it all, but if you use the search tool you can winnow things down to a manageable gulp of knowledge. Most of it though is pure Disneygeekiness.
WHERE TO STAY
Here's a handy guide for the local hotels…
I typically stay at the Sheraton and use points to pay. Or by staying there I get points! Either way I'm winning. There are two close by. The Sheraton Anaheim offers a free shuttle (it's also just across an overpass from a Starbucks, easily walkable). The Sheraton Park is about 10-15 mins walking distance.
I've stayed at the Ramada Maingate before. Rooms were fine and clean but not anyplace I'd want to hang out in (which you won't be since you'll be at the Parks most of the day/evening anyways). It's close (just across the street) and offers a free continental breakfast in the morn.
I hear really good things about the Howard Johnson as well (great Pirate pool for kids and you can walk it, probably 15 min walk?) and the Candy Cane (which is within walking distance as well).
If you have AAA, you can sometimes get even better deals. Check them out!
If you've got the money though, stay on property. We've done Paradise Pier and the Disneyland Hotel (the original). Both are great. Paradise is cheaper, and the farthest from the Parks but it's on property so still it's not that far. It's nice to have the hotel close by, the ability to have concierge service where you can buy photos and such in the Park and have them delivered to your room and if you stay 3 or more days you get access to Magic Mornings which provide 1 hour early entry to only those guests…a great way to beat the crowds! The pools are nice and it's Disney so the experience is just a tisch better. The Grand Californian is the newest hotel and the most expensive. It's styled after an Arts & Craft Yellowstone-type lodge. Very cool. But expensive. If you don't stay there at least visit and soak up the ambience, have a meal at Napa Rose or just sit in the main lobby and soak it up the grandeur. Fans of Wilderness Lodge (in Disneyworld, will feel right at home, it's not as epic as that property but it's a good cousin to it).
I would try to stay on property or within walking distance so you don't have to deal with parking, crowds, delays and all the hassle. Sure it's cheaper to stay a few miles away but it will eat up precious time in the park and create more stress than you need as you work your way there. Just avoid it altogether.
TICKETS
I buy straight from Disney. There are deals to be had through AAA, Costco, etc. as well. And you can also purchase through many of the "good neighbor hotels." I would not recommend online and shady shops that offer real steep discounted tickets, there is usually a catch, it may be illegal or previously used passes, etc. You may end up paying more in the long run, especially if Disney invalidates the tickets. If you purchase online I would recommend you print out an extra copy of your tickets and leave in your purse or wallet (just in case). One year my son threw away his ticket. After much crying we went to City Hall explained the situation and thankfully my brilliant wife had a copy of his ticket and the cast member replaced the ticket on the spot! WHEW!!
I generally recommend buying Park Hopper passes. They are more expensive but they get you into both Disneyland Park and Disney California Adventure (DCA). The reason I like these passes is you can go back and forth between Parks depending upon how busy they are. With the addition of CarsLand it's becoming less true that one park is less busy than the other, but it does vary day to day for whatever reason, so a Park Hopper will let you leave a crowded Disneyland and go over to DCA where it might be less crowded (fingers crossed).
If you plan to stay longer than 5 days then it might make sense to purchase an annual pass, especially if you think you might return within the year. Or maybe just one person in your party purchase the pass so that way you can still take advantage of some of the discounts/savings. There are also great discounts on food and merch depending on what you buy. It's worth checking out.
WHEN IS THE BEST TIME TO GO?
This will vary based on your interests, schedule, etc.
Personally, my favorite time of the year is Christmas. There is nothing better than the Parks all decked out in the lights, the music, the decorations, the theme-ing is just so rich and wonderful. Special food options and treats, unique merchandise and special events/parades. It's the best. And two of the most popular rides get makeovers…the Haunted Mansion gets a Nightmare Before Christmas overlay (which I honestly enjoy more than the original) this only happens at Disneyland. And It's A Small World gets a holiday overlay with some holiday theme music even. Both should not be missed. It also means that those rides are closed down for a month before and a month after which is something to think about when you are planning. We've also found that it's the least busy just after Thanksgiving. Technically the weekend of Thanksgiving is still busy but that following week is some of the least busy in the park.
In the Summer, the weather will be great but it will also be super busy. Most holidays are wicked busy as well…though NYE stays open extra late (but it's insanely packed).
I've heard a very slow day to go is Super Bowl Sunday.
The reality is the Parks are getting busier and busier. It's not uncommon to even have the Parks close down to new guests, if you haven't already entered a Park that day (even if you have tickets). Best advice is to look closely at the Disney calendar on their site, check the forums, consider the impact of holidays, long weekends, special events (like Graduation Night in June), etc.
It's also worth checking Touring Plans for advice on crowds, ride wait times, etc. A year subscription is under $10 and might be worth purchasing to help you in your planning. The point behind all of this is to have a plan right? That's why you asked for advice. If you're going to spend the time and money on a trip to the Happiest Place on Earth you better get your money's worth!
HOW MANY DAYS SHOULD I SPEND?
Our first trip to Disneyland we spent 5 days in the Parks and didn't do everything. Seriously. Now that said, I think 5 days is a good idea. You could probably do more, but 5 should cover everything. Now if you've done the Parks several times previously then 3 days might be a good amount, that would allow for one full day in each park and then the extra day for going back to your favorite rides or those that you missed.
RENTAL OR SHUTTLE/TAXI?
If you're staying on property or at a hotel close by then I wouldn't recommend a rental car. You'll spend most of your time in the Parks anyways. The only thing you might miss by not having a rental is going to In N Out Burger (which might necessitate a taxi trip then…Animal Style all the way!). Of course, if you think you'll go out beyond the Parks and venture to the beach or another park like Universal or Sea World then it definitely makes sense. Here's a good article on the pros and cons of transportation options.
WHICH AIRPORT?
LAX. John Wayne. Long Beach. All are decent options. LAX will have more flight options but is the farthest from the Parks and that means time and $$. You'll easily loose an additional hour (vs. the other aiports) on your last day in the Parks as you have to plan for traffic on top of getting to the airport early. John Wayne and Long Beach are pretty much the same distance from the Parks. Much closer. Smaller (actually Long Beach is super small, your bags are deposited in an outdoor baggage claim area). Easier to navigate. Sometimes you can really save some $$ by checking which of these airports have the better deal. My preference seems to be John Wayne (SNA) though. Small, easily to navigate and get into/out of, decent food amenities (Long Beach is limited).
FOOD
Disneyland has a wide range of food options. If you've done Disneyworld though, you're gonna be sorely disappointed as the options aren't even comparable, though there are some unique gems worth trying.
First, things first…if you are 60 days out, go make your reservations now. Here's a link to all the options and the reservation number.
Seriously, don't wait. You'll want to make certain reservations as early as possible because they fill up fast. Most notably, The Blue Bayou. You won't be able to walk up and get a seat. Not even if you're willing to wait. The Bayou is a must do. It's the restaurant inside the start of the Pirates of the Caribbean ride. Great food, great ambiance. Oh and they offer Monte Christo sandwiches which should not be missed along with some of the most heavenly scalloped potatoes you'll ever eat! It's pricey but worth the splurge. Lunch is the best time to go. Make your reservation for the first seating which is at 11:30. When you show up ask to see if they will seat you waterside. Because you are the first seating they typically can and then you have a better view of the boats going by. Also the Monte is only available at the Bayou for lunch. You can split the sandwich (you pay a fee but it's cheaper than two plates and finishing just one is tough).
Other places where you'd likely need reservations…Napa Rose (in the Grand Californian), Steakhouse 55 (in the Disneyland Hotel) and whatever character meal you want to do (trust me, if you have kids, even teens, a character meal is fun to do). Our personal favorite is Goofy's Kitchen at the Disneyland Hotel. Good mix of characters, food is decent buffet-style. Have a camera and an autograph book (bring an extra pen, like a sharpie, they are better than the ones that come with the book). If you have girls then Ariel's Grotto is the place to eat and get great princess action.
Beyond that just go explore and try different places.
Some other favorites of mine include:
Big Thunder Ranch BBQ. Decent BBQ, entertainment, all-you-can-eat (come with an appetite to make it really worth your while)
Napa Rose. This is a big splurge as well. More expensive than Blue Bayou. But it's fine dining. You don't have to get dressed up but the food is world-class. Great wine selection. Make this a special night out with your significant other.
Café Orleans. You can order Monte Christos here all day. Good overall menu.
Mint Julep Bar. Hidden on the other side of Café Orleans building. It's a walk-up window where you can get non-alcoholic Mint Juleps and tasty beignets
The Golden Horseshoe. Good root beer floats, chili, fish and chips, etc. The food is less the attraction. This is a great place to avoid the sun and enjoy one of the most entertaining shows on property, Billy Hill and the Hillbilles. Seriously. Come a bit earlier than the scheduled showtime to get good seats. It's crowded all day long.
Dole Whips. THIS IS A MUST. Go to the Enchanted Tiki Room Experience/ride and buy a pineapple soft serve ice cream treat. The Dole Whip Float is even better (with pineapple juice). You can take the ice cream into the ride and this is another great way to beat the heat.
They're churros. What else do you need to know. They are in carts all over the Parks. Get one or three.
They're good. Real good. Great batter. There's a cart over in Disneyland near the hub.
A word about coffee, they just put in a Starbucks branded store inside DCA. So that's the go-to place, but it's busy. Beyond that, if you drink coffee get it outside the park. All other Disney coffee is bad. Their espresso drinks are even worse. There's a LaBrea bakery near the main entrance and some other places in Downtown Disney that have better coffee options.
If you don't want to eat in the Parks because you want more selection or want to pay less you can step out and walk down Harbor Blvd…there's fast food joints, Subway, Mimi's (near the Howard Johnson serves classic comfort food and if you're there on Thanksgiving they have a great feast and very affordable vs. eating at the Disneyland Hotel), etc. The Anaheim Gardenwalk has some interesting brand name chains. More affordable options.
RIDES
Pick up a map of the park when you enter (they're free) and cross off each ride at the end of the day. So that way you know what you've done and what you need to do. We said we wouldn't repeat rides until we did all of them first. You don't have to be that Nazi though;-)
Some rides have lines that are approaching 2 hr waits (e.g. CarsLand rides). Plan ahead for that. If you have kids load your phone with Fruit Ninja, have them bring their DS and maybe you want to have a pulpy paperback in your backpocket to pass the time.
If you go on Splash or Grizzly River bring a few ziplock bags to put your camera and phone into. Just because you have a poncho on or your phone is in your bag or pocket doesn't mean it won't get soaked. We lost a new Kodak wifi camera on Splash because it got drenched in a bag I was holding. Be prepared.
If it rains, you can pick up a Disney poncho at most gift shops at the on-site hotels or park stores. Or you could plan ahead and pick up a cheaper one at Walgreens and just pack it in your daypack (which you would put in your locker).
Speaking of lockers…Get one. They have an locker area at the entrance to DCA and also about half way down Main Street in Disneyland. You can rent by the day and are great have to store purchases you make, a change of clothes if you get wet or cold. They're pretty inexpensive vs. having to lug around all your gear.
Scared of rides? I was. Still am on certain ones. But plan ahead and watch video walkthroughs of ride. Go on YouTube. There are a ton of them out there. It's a good way to get your little ones (or older) that might be afraid of a ride to be prepared and see that it's not so bad afterall?
Go on any wet rides at the beginning of your day so that way you have the day/sun to dry you out. Getting wet on Splash at 7pm isn't fun when it's cool and dusk.
Some rides have single rider options. Like Indiana Jones, so let's say…only one of you wants to go on the ride and doesn't want to stand in a long line, they can get bumped ahead quite a bit. Ask at City Hall for which rides are offering that option but I know Splash, Toy Story Mania (sometimes) and Indiana do it. You may sit next to someone you don't know, but hey, they don't know you either 😉
Use the Fastpass system. There's more info here. Have a plan of what rides you want to FastPass that day and right when you enter the park go to that ride first and get the pass, typically it should be one of the more popular rides where lines will be long…like Space Mountain for example. Then you can go on it later in the day, etc. Disneyworld has been cracking down on you must return during the time window the ticket specifies but Disneyland hasn't yet, which means once the window is open you can go ANY time after that.
If you are like most people CarsLand is the hot, new ticket. So come early, line up to enter DCA first and hot-foot-it to that area first. Think about assigning a Fast Pass runner to get tickets for one ride while you get in line for another, you need to be quick though.
Mouseplanet also has a weekly Park Update which gives you a ton of useful knowledge on rides closures, events, special deals and behind the scenes stuff. There might be something in there that could help you save some money or do something special…but the important thing is the ride closures.
FUN AND INEXPENSIVE THINGS TO DO
Find Hidden Mickey's. http://en.wikipedia.org/wiki/Hidden_Mickey You can pick up a guide book or you can just go on your own. They are all over the Parks, hotels and Downtown Disney
Collect autographs and get your photo taken with characters. You can buy a Disney photo/autograph book or you can do your own album.
Collect pressed coins. http://mousepad.mouseplanet.com/archive/index.php/t-125235.html The machines are all over the Parks. The cost varies from .50 to 1.00 but pretty affordable if you are wanting cheap souvenirs that are kinda collectible.
At 4pm (I think it's still 4pm, check at City Hall) go to the center of Main Street by the train station and watch the flag ceremony retreat. Pretty cool.
Check in at City Hall and get a free "first time visit" button or other celebration buttons…it'll make you feel special the whole day and cast members typically will comment on it.
Take the train (all the way) around the park…nice opportunity to rest and see the park in a new way.
Split into teams and tour the Parks taking as many pics as you can of Hidden Mickey's. The winning team after an hour gets to pick where to eat?
SPECIAL TREATS
There are a few things in the Parks that cost a little more than normal but might help to make the experience a bit more unique and magical.
Interested in going behind the scenes or having a guided tour? Check out these cool options. I can't say enough good things about the Walk In Walt's Footsteps tour, fascinating history, cool access (you get to visit the looby of exclusive Club 33), trivia, etc.
Fantasmic is a deluxe show that is not to be missed. It's free to everyone but if you want to spend some $ you can make it a more enjoyable experience. You get preferred seating and a dessert sampler (which is so filling and big that we had a lot of treats to take back to our room that night). It's worth it just you don't have to spend the extra hour to line up and ensure you have a decent view…reserved seats are nice! You can call Disney Dining to make this reservation.
World of Color is DCA's answer to Fantasmic. It's pretty outstanding. A must see. Here's a good guide to help you think through the options (including a picnic dinner) to view the show
OTHER RANDOM TIPS
Pay attention to your calendar of events which they give you when you enter the Park. It will tell you what attractions are closed and when fireworks, parades and special showings are happening. Plan accordingly. People line up for parade sometimes and hour in advance if they want to sit on the street and be right there where the floats pass by.
http://mousepad.mouseplanet.com/showthread.php?t=75163  This might be something you don't do for budget reasons. If you have a camera you can just do your own photos and get someone to help take family shots, people are always willing to help, especially cast members. But if you want quality, professional shots this is the way to go. The best deal is to by the CD of photos that are taken of you during your trip. It's pricey (now over $100 I believe). But a cool keepsake. Here's the key though…you aren't charged per photo. So my advice is to get as many photos from as many locations/photographers as you can. You'll see them all over the place in front of key attractions and Disney hotspots (at the hub, in front of the castle, just as you enter, in front of Golden Gate bridge in California adventure). We've walked away sometimes with a CD of 90+ pictures. Now they provide it all online. We did the castle 5 times, once every day, different outfits and different looks. That way you have a lot to choose from. Word of note…do any pics before water rides so you're not drenched and your hair looks beautiful (important for the ladies). Something we also do is give our personal camera to the photographer and ask them to take a pic with that as well. I had heard they were cracking down on this, especially when there are long lines but most are accommodating. Also, you can use this for pics with characters when there is a Disney photog there with the character. There's always one with Mickey and Minnie at their homes. It's free to use the Photopass card but getting the actual pictures is where you pay. You may like a few pics and you can go online and just purchases those.
CARSLAND
Carsland Wide right technique at rope drop:
Carsland Lighting ceremony:
If you aren't able to take advantage of those Carsland tips to ride Radiator Springs Racers there is a single rider line option. That line usually takes about 30 mins to cycle through as opposed to the regular line which can top 2 hr waits! The disadvantage is you aren't all sitting together but you get to experience it much quicker. Ask the cast member at the entrance about the single rider line and they'll direct you where to go.
The Luigi tire ride is not worth any more than a 15 min wait. While different from other rides and the theme-ing inside is cool, the ride itself is hard to operate and not really as fun as it might look.
If you're looking for a good counter-service restaurant and are sick of burgers and corndogs then check out Flo's V-8 Café in Carsland. Pretty good food. Their turkey dinner was real good.
Hopefully these tips will improve your planning and make your trip to the Happiest Place on Earth a little more happier. Enjoy your vacation. I'm jealous already."