(I delivered the following speech at the service to honor Dad's life on Thursday 3 November 2011 at 2.30pm at Old St Paul's in Wellington.)
Notwithstanding the great intellects gathered here today, one of the most striking things about Dad was how incredibly smart he was. Whenever I met people who knew him, one of their first comments was inevitably about his brainpower.
However, his achievements didn't in fact come about because of sheer brainpower. He would often call out others whom he considered smarter than him in different fields and he would do so with great admiration. The other key quality that propelled him to the positions he reached, whether it was the captain of the First 15 and tennis team, his rapid rise through Foreign Affairs or The Treasury, or heading the Business Roundtable, was his extraordinary work ethic.
When we threw a surprise sixtieth birthday party for him, a former Treasury colleague who couldn't attend and who is tremendously successful in his own right, sent me a note to share with Dad. One of the things he wrote was, "I stopped measuring myself against you a long time ago because I did not like thinking of myself as a slacker."
Many of us know of the long hours he happily put into his job. I left New Zealand nearly 15 years ago, but we managed to speak to each other on most weekends. When I called I would almost always reach him at the office. In fact, it wasn't until a few months ago that I realized I'd never bothered to ask for his home phone number.
I really enjoyed our chats. We would talk shop on those calls, giving each other a rundown not only on how life was going, but also our various takes on the latest in US or New Zealand politics or interesting developments on issues we both followed. He wasn't just my father; he was also my friend.  Someone once said, as my wife Jennifer reminded me the other day, "anyone can be a father, but it takes someone special to be a Dad."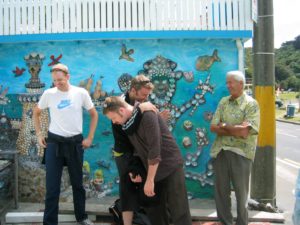 Fortunately for my brothers and I, Dad never pushed us as hard as he pushed himself. That surely would have been a miserable existence for us all.  He simply demonstrated what can be achieved through hard work and that's set us in good stead.
Dad's intellectual strength and solid work ethic are better known than some other things that might be less familiar to those outside our family.
Like many kids who think the world revolves around them, I didn't really get to know Dad well and start to understand what made him tick until my teens. He had an incredible thirst for knowledge and was seldom far from a stack of reading material that he couldn't wait to get stuck into.  Indeed, a briefcase packed to overflowing with papers joined us on every family holiday I can remember. Dad always worked with Mum in meticulously planning our vacations with the same level of detail he applied in his working life. During breaks in our daily activities or after we'd gone to bed, he'd slog through the stack of material he'd brought along. By the time we returned home, I doubt anything had been left unread and much would have been marked up with the green pens Bryce mentioned. Dad had started using them at Mum's suggestion, as she thought green comments would come across as less threatening than red.
New Zealanders best know him as someone who was well informed on a wide range of subjects. Perhaps less recognized is that if you asked him about a subject he hadn't thoroughly researched, he'd say so and not venture an opinion. However, if you asked again a couple of months later, he'd probably have canvassed his vast network of academics and think-tank colleagues across the globe for the best papers and books on the subject, devoured them all and come to his own conclusion on the issue.
The reason he continued to study his entire adult life was because he knew that ideas matter. He also knew the French writer Victor Hugo was right when he wrote, "An invasion of armies can be resisted, but not an idea whose time has come." I think it was this understanding that underpinned one of his greatest traits: his eternal optimism. Nothing could get the guy down. He always saw the upside to everything. What others would consider setbacks or even defeats, Dad would view as opportunities or even victories and convince you as much. This attitude helped both at work and at home, when he would highlight the optimistic side of the setbacks and defeats I've suffered.
Dad taught me Hugo's truism well when I chose to get involved in my own cause, pushing for voluntary membership of student unions when I attended Victoria University starting in 1990. He quietly encouraged me, helped with ideas, refined arguments I was making and suggested people who might be supportive. While my colleagues and I were successful in getting a bill introduced in the early 1990s, it ultimately failed. Having been schooled by Dad about how ideas can take time to be accepted, I was confident that one day we would prevail. Sure enough, more than 20 years after setting out to introduce freedom to campuses, the ideas that we and others developed triumphed last month.
Of course Dad developed, refined and promoted many ideas throughout his career. While he might have always wanted them to be accepted and implemented immediately, he was never discouraged if they weren't. By planting the seed, he knew that in time they would. Many have already gained broad acceptance in policy circles and been implemented, and he knew that those he left behind would gain acceptance in the years and decades ahead.
Although Dad was often in the public eye, he wasn't into self-promotion. He was in the market for ideas, so he did what was necessary to sell those ideas.  If invitations to speak, participate in interviews or other activities had nothing to do with moving an idea forward, he would decline and spend that time elsewhere.
He was genuinely touched to receive a Queen's birthday honor this year. But I know he would much rather have received public support for another of the policies he has advocated to advance this country. That said, it was well deserved and it meant a lot to him and us all. In a similar vein, I imagine he would have laughed if he'd heard that his passing was the lead news item on Radio New Zealand on Saturday. With his usual modesty, he would probably have said that it must be a slow news day.
In spite of his extraordinary intelligence, he was remarkably inept when it came to things technological. I always shook my head when I received an e-mail from Dad during my time in Hong Kong in 1997, because it arrived in a paper envelope. Heather would print out Dad's e-mails and leave them on his desk, a practice Dad continued to the end. When he received an e-mail that was interesting or amusing and he wanted to share it with me, he would photocopy it, put it in an envelope and drop it in the mail to me. Obviously this was very frustrating if I wanted to send it on to someone else myself. Fortunately, some years later he learned he could ask Heather to forward them to me electronically.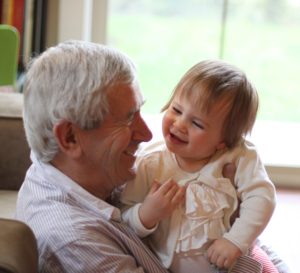 He was very protective of my brothers and me, never speaking publicly about us until we were well into our adulthood and could fend for ourselves. It was nice to see how proud he was when he spoke more openly about us in recent years, including his pride in becoming a granddad.
Dad excelled in this recent role. We had two fantastic visits to Seattle from Granddad Kerr and Nana Catherine. And in September Penelope visited him here in Wellington. He took her to the playground at Chaffer's Park and played horsey with her in his armchair. He absolutely adored her and she lifted his spirits.
Outside of the visits, Dad loved to Skype with her.  He and Catherine have a wooden cat that she liked to interact with over the web. She managed to find "kitty" when we visited Wellington last month and she walked around with it incessantly. She remembers her Granddad and their dog Molly, who in our house is now known as "Molly, ruff ruff". She also says, "up down", "horsey" and refers to his "shoes", which she loved putting on and attempting to walk in.
During our childhood years, Dad didn't bother to spend much, if any, of the fruits of his labor on himself. He was very frugal. It either went on things for us boys, occasionally on Mum or was tucked away for emergencies or savings. He built a sandpit for us in the backyard and we'd often handpick apricots, plums and peaches in orchards which he and Mum would then bottle in dozens upon dozens of Agee jars.  For many years, he even labored over a rhubarb patch in the back garden.  To this day, he maintained one at his and Catherine's home in Central Terrace.
Until I was fifteen, we had just one car, which was used exclusively by Mum and us kids.  Dad drove a scooter to work throughout his Foreign Affairs and Treasury years, and on particularly inclement days he sported a highly unfashionable, yet practical, two piece red rubber suit over the top of his work suit.
Fortunately for our extended family, over the years Dad evolved.  Earlier I mentioned that on most weekends Dad and I used to call each other.  In recent years, it's probably only averaged every other weekend, which I don't begrudge for a minute.  The reason for this, of course, is the entry of Catherine into Dad's life.  Not only did she improve upon the great start Mum made on developing Dad's fashion sense, she ushered him into the age of the Internet and iPad and encouraged him to enjoy the fruits of his labor some more.  He was clearly smitten with Catherine and told me as much.  They were absolutely perfect for each other.
Richard, who will be speaking in a moment, represented Bernard and myself during the past several weeks when we realized that perhaps this was going to be the one battle that Dad would not win.  So I'll leave it to him to talk a little about that period and all of the amazing people and support that got Dad through it so well.  But I do in particular want to acknowledge the strength of character, the love and rock-solid support Catherine provided dad throughout this unbelievably tough time.
Bernard, Richard and I each averaged 40 years with Dad.  It would have been nice to have spent more time with him, but in my estimation 40 years around such an amazing father and human being is something for which I can be rightly grateful.
Back in August, Jennifer and I e-mailed some pictures of Penelope at the age of 18 months.  Thanks to Catherine's efforts over the years, Dad was not only able to open and view the pictures himself, but he also replied.  He wrote, "She's just wonderful. More than anything else, she gives me something to live for."
In fact there are three people for whom I know Dad was really fighting this last battle.  He wanted whatever extra time he could get to be with Catherine, to watch Penelope blossom further and to be here for his soon-to-arrive second grandchild.  And we all so wanted them to get those extra months or years with him.
Amongst family and close friends, we'd sometimes joke about how Dad was in fact an accident.  Given the number of years between Dad and his older siblings, it didn't take inside knowledge to know his birth wasn't planned.  However, he wasn't really an accident.  He was a blessing.
To Grandma and Granddad, he was a blessing that they, particularly grandma, absolutely adored.
In spite of being the little tyrant that Dad was, Alan and Barbara were blessed for sixty six years to have a great little brother.  And he was blessed to have them.
My brothers and I were blessed to have an absolutely incredible Dad who did things just right to ensure we grew into the men we are today.  As a new father, I can vouch that it's no mean feat to raise one kid, let alone three that all turn out as well as we have.  And Dad did everything in his power to ensure we were set up for success as a family.
Mum, Catherine, Ian, David and Richard, Bryce and Greg, Graham, Douglas, Alan, Roderick and so many others were all blessed to have had Dad touch part of your lives.
Finally, New Zealand was blessed to have had Dad devoted to her cause his entire working life.  It's better for his having been here.
(The eulogy given by Bryce Wilkinson at the service can be found here, the speech delivered by Roger's brother Alan Kerr can be found here, and the speech delivered by Dr. David Leonard can be found here.)