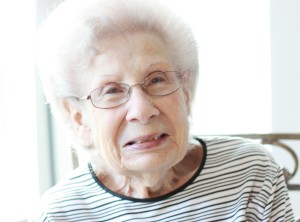 We're mourning the passing of a great matriarch of the family, Jennifer's grandmother and Penelope and Harrison's great grandmother, Mimmie. She lived to the age of 92 and was fortunate to be healthy, sharp and vibrant for all of those years. A true Texan, she lived independently right to the end, still driving herself around town and living in her house in the Dallas/Forth Worth area. Her husband, who lived to the age of 85, was a World War II veteran and passed before her a decade ago.
She had four children, including Jennifer's mother Joyce. I first met her several years ago in Joyce's kitchen. No one had mentioned to me that she was known as Mimmie and she was introduced to me by name, not by her position in the family. It was a testament to her vitality that I assumed she was a friend of Joyce's who was just popping in for a coffee. It was only later I discovered she was my daughter's great grandmother and that she even had great, great grandchildren.
We last saw her in late September at Harrison's christening. She also joined us for a meal at Joyce's and I took these photos in the kitchen where we first met. Her wicked sense of humor and independent streak came through in our conversations. She mentioned how a few years ago a home security person was being extremely persistent in calling her. On one call, she became exasperated and shared with him the fact that, like any good Texan, she slept with a gun under her pillow.
"It's the only home security I need," she told us she said to him. She also let him know it shoots 13 times before she has to pull the trigger again.
Then with a glint in her eye, she added gleefully, "He never did call me again."
She'll be missed.